Registration
Online Registration is now closed, but you can still sign up on race day up to 15 minutes before your wave/distance starts.
Pricing
| Date | Juniors | Adults |
| --- | --- | --- |
| Through May 8th | $20 | $30 |
| After May 8th | $30 | $40 |
| Race Day | $40 | $50 |
Start Times
Start Times have just been posted here.
And don't forget, numbers on your right side.
Why
You can't be a state champion if you don't race.
If you live in/around Boise, it's right next door.
Bragging rights for an entire year.
Misery loves company. Bring your friends and you can all suffer together (at 1 minute intervals) :)
Challenging courses - the rollers are sure to keep you entertained.
Courses
These are not your typical TT courses. While they may be out-and-back, they are anything but flat.
All courses start and finish on Swan Falls Rd in Kuna, just south of Kuna Mora Rd. Click each map for a more detailed view on Strava.
10K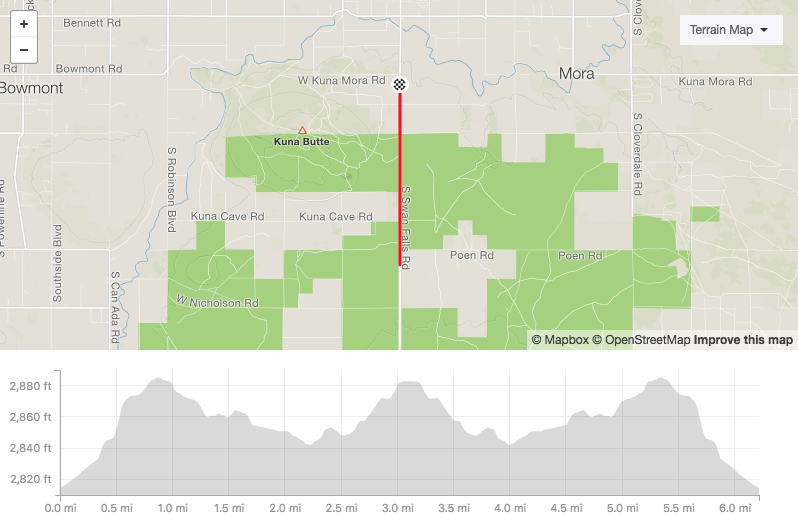 Classes
Female Jr. 9-10
Female Jr. 11-12
Female Jr. 13-14
Male Jr. 9-10
Male Jr. 11-12
Male Jr. 13-14
Male 80+
20K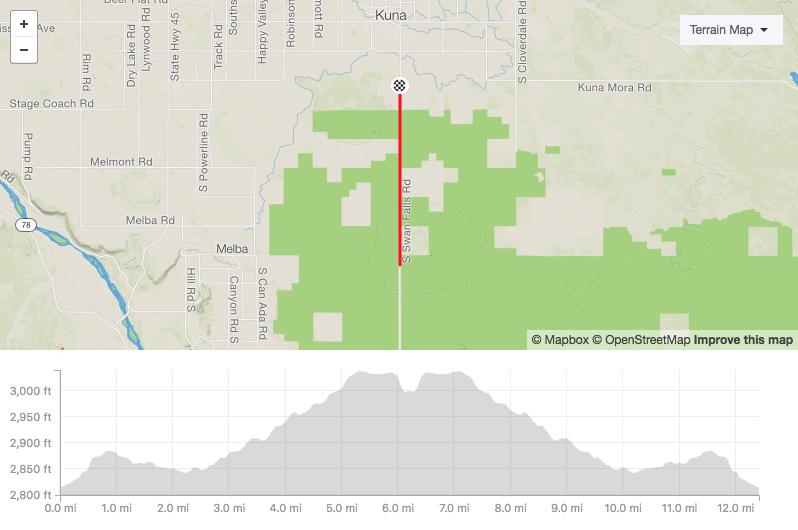 Classes
Female Para-cyclists
Male Para-cyclists
Female Cannibal
Male Cannibal
Female Jr. 15-16
Female Jr. 17-18
Male Jr. 15-16
Male Jr. 17-18
Male 75-79
Female 70+
Male 70-74
Female 65-69
Male 65-69
Female 60-64
Female 55-59
Female 50-54
Female 45-49
Female 40-44
Female Cat. 4
Female Cat. 3
Male 60-64
Female Cat 5
Male Cat. 5
40K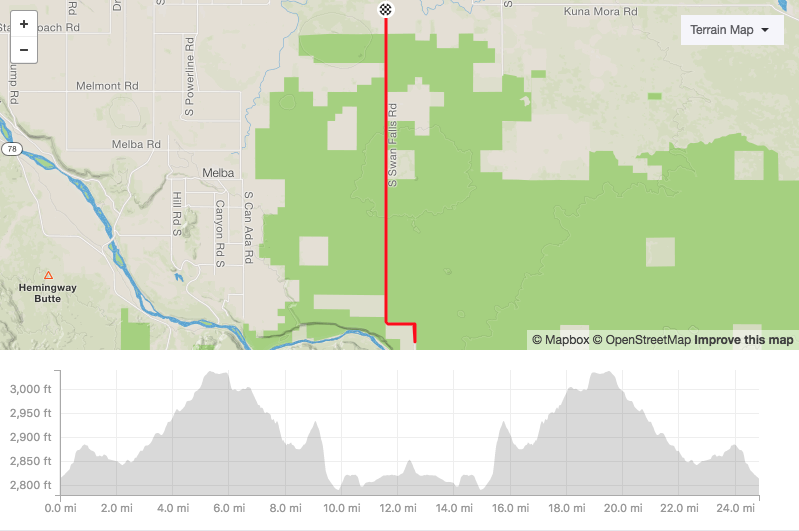 Classes
Male 55-59
Male 50-54
Male 45-49
Male 40-44
Male 35-39
Male 30-34
Female 35-39
Female 30-34
Female Cat. 1/2
Male Cat. 4
Male Cat. 3
Male Cat. 1/2
Cannibals Welcome
Can't beg, borrow, or steal a proper TT bike? No worries, come out and do battle on your road bike the way they used to do time trials.
The rules are simple, just show up with what you would normally ride at a crit or road race with the intent of breaking away. Specifically, that means:
NO on the following: aero bars, clip-ons, discs, tri-spokes, wheel covers, and aero-helmets
YES on the following: mass start bicycle, mass start wheels, regular helmet, skinsuits, shoe covers
One distance: 20k
Two classes: Men and Women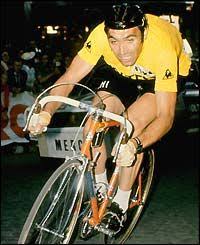 Awards
First place in each category (except cannibal classes) will be crowned Idaho State Champion. Being state champ means you get to wear the State Champion's jersey all year long. More details to come on getting one these great jerseys to remember your victory with.
Top three finishers in each category will receive USA Cycling medals.

In addition to serious bragging rights, Cannibal podium finishers get one of these great pint mugs from which they can drink the blood of their defeated competitors share a nice beverage with their competitors.

There are no monetary awards.
We will have three podium presentations, one for each distance, about 15 minutes after the last rider finishes, so there is no need to wait around for hours.
10K - 9:45am
20K - 10:55am
40K - 12:10am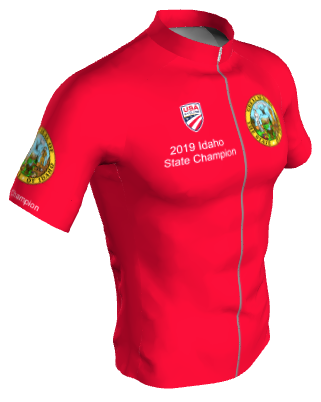 Don't worry, we are still finalizing the design, this is just a placeholder
Venue
Location

Corner of Swan Falls Rd and Kuna Mora Rd, Kuna ID 83634

Parking

All parking will be on Kuna Mora Rd, west of Swan Falls Rd. No parking is permitted on Swan Falls Rd, south of Kuna Mora Rd.

Warmup / Cooldown

All warming up and cooling down will be on Kuna Mora Rd, or on Swan Falls Rd north of Kuna Mora Rd, not on the race course.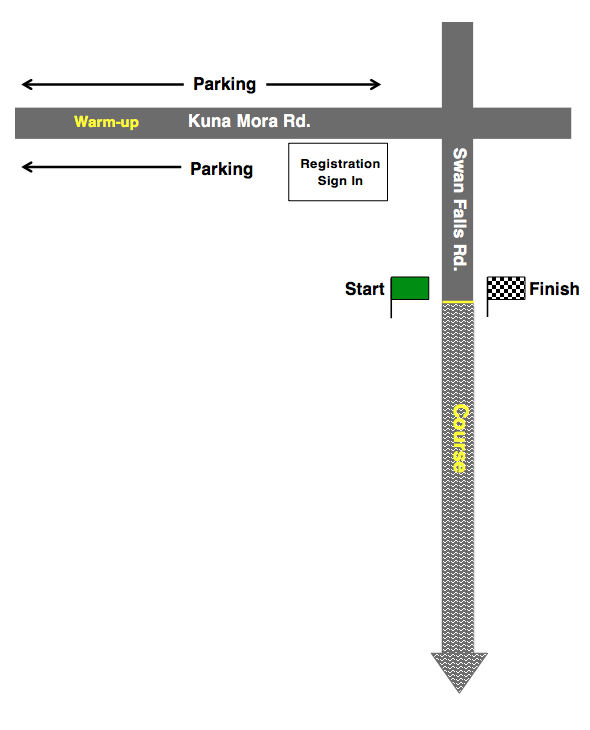 Photos
OmniGo! will be providing finish-line photos. Here are a few shots from last year.
Rules
USA Cycling

Held under permit #2019-1221. USA Cycling rules apply.

Sign-in

Every rider must sign in!!! Sign in opens at 7:00 AM MDT at the Race Start Location. Holders of USA Cycling annual licenses must present these at sign in. Riders with SWICA season numbers, please remember to bring yours. For those without season numbers, bib numbers will be assigned at sign-in.

Eligibility

In order to be recognized as an Idaho State Champion, the rider must be the highest placing finisher who holds an annual USA Cycling Road License, be a US citizen or permanent resident and a resident of Idaho (please provide your proof of Idaho residency at Check In). Non-Idaho residents and one day license holders are allowed to race but are not eligible to win the Idaho State Championship. Riders may choose to enter single-day individual time trials in their proper category or any higher category, but not a lower category. Master riders may only compete in their age bracket. There will be no State Championship nor SWICA BAR/BAT points awarded to the Cat 5 and Cannibal fields.

Start

First rider starts at 09:00 A.M. MDT. 1 minute interval between each rider. Start order: 10K riders, followed by 20K riders followed by 40K riders. The start list will be posted here by June 7, 2019 at 3:00 P.M. MDT.

On the road

Riders are self supported, there will be no follow cars allowed and there will be no neutral support. The race course will be open to traffic. Centerline rules will be in effect over 100% of the race course.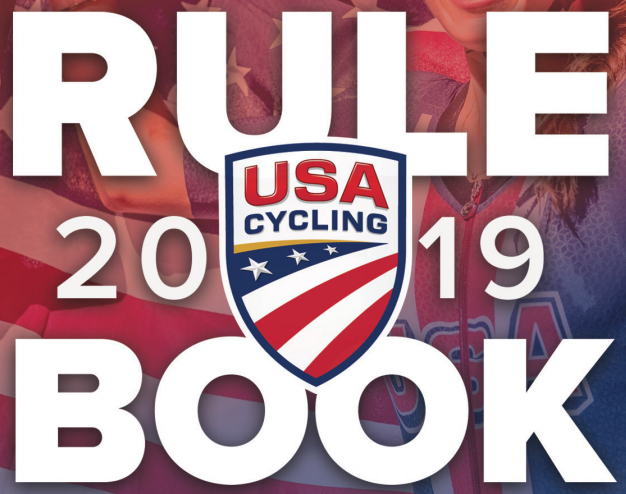 Specifically, section 3E, pages 70 to 71.
Please give a big thank you to our sponsors who make this happen: